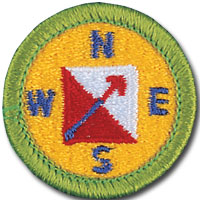 Scouts participating in the Saturday instruction & Meet are expected to complete:
Boy Scouts:   Second Class
requirement 3a, 3c; First Class Requirement 4a; Orienteering Merit Badge items: 2,3,4 and 7a (partial).
Venturers:  1,2,3 of the Land Navigation requirements for the Ranger Award.
Webelos:  Webelos Adventure "Webelos Walkabout" requirements: 1,3,5,6
Leaders will be issued a card for each participant that can be signed by the Leader in charge of the team validating their participation in the instructional class and meet.