2023 keeps getting bigger!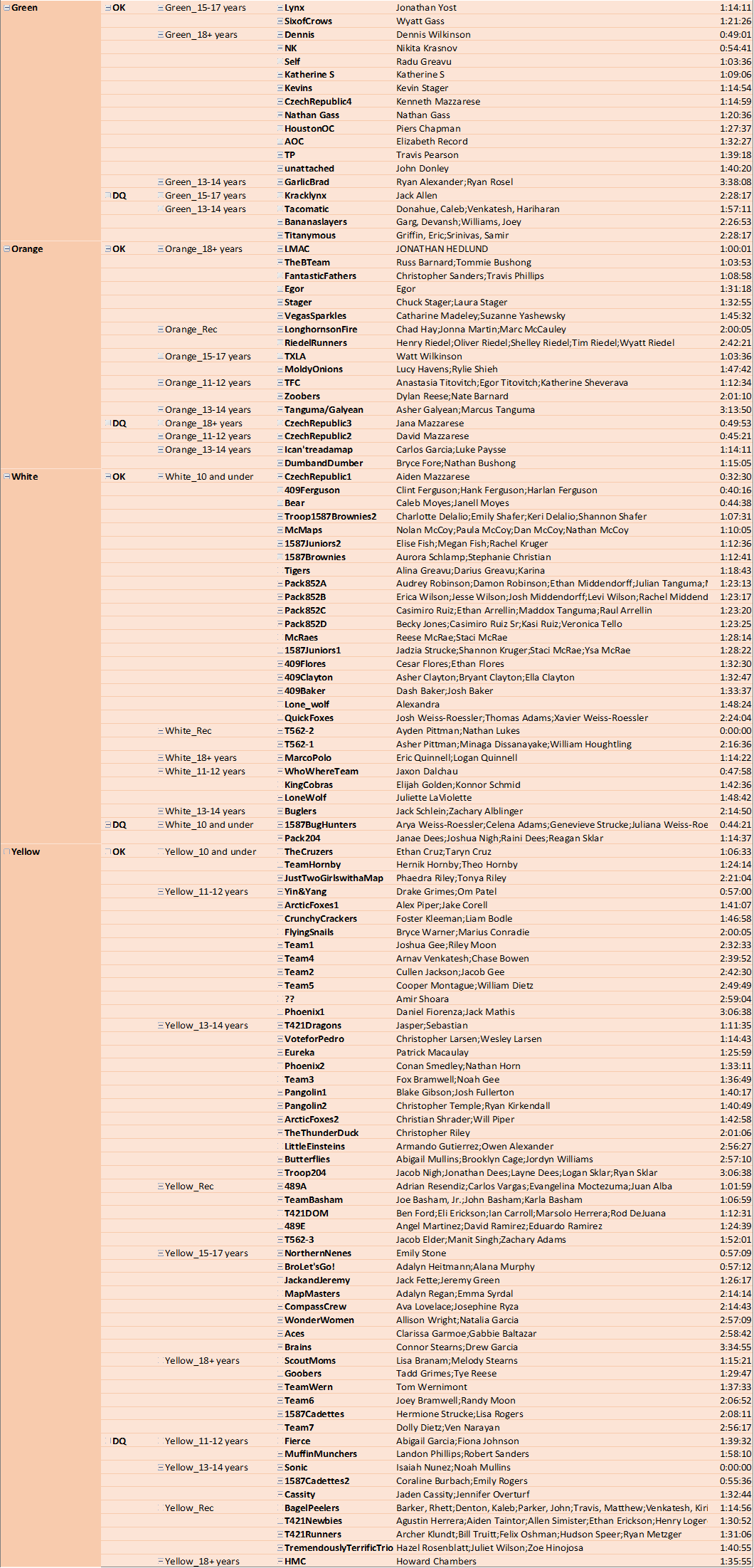 l
2022….biggest….event….ever.. Thanks for coming out!

 2022 Recreational Team Times below: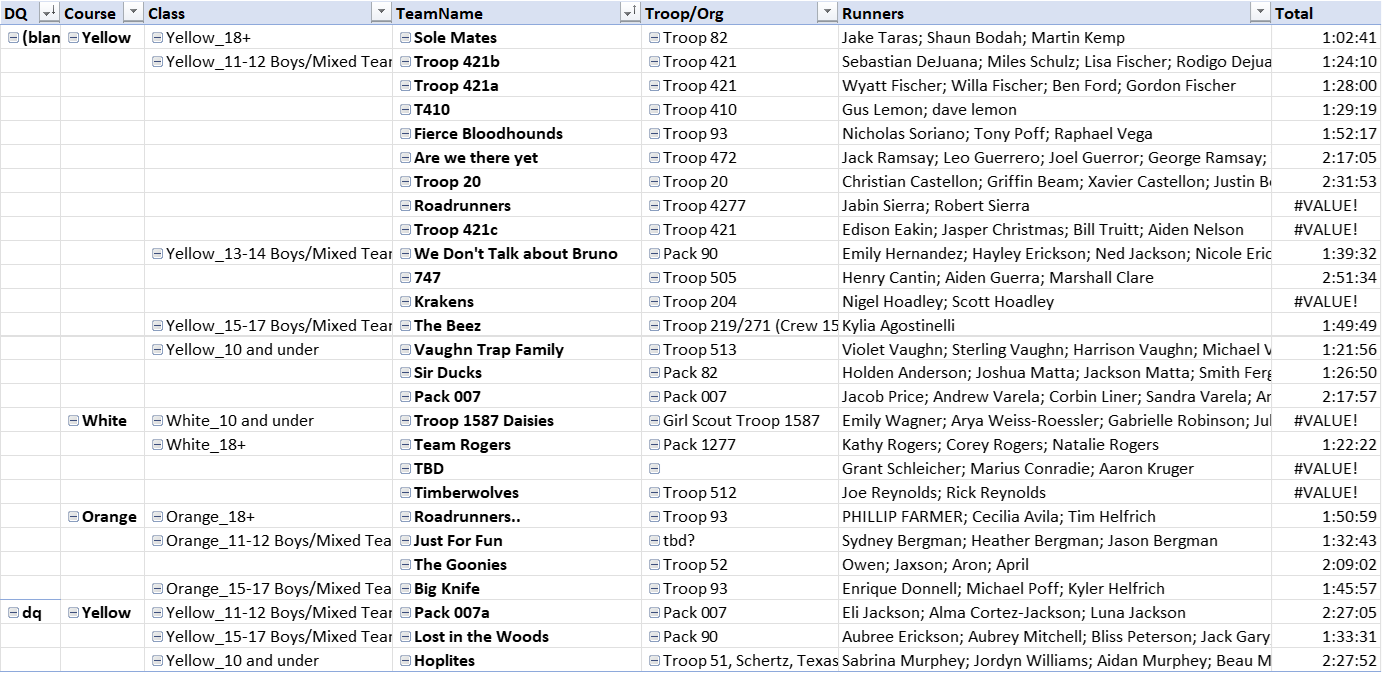 2021 Orienteering was awesome!  Great to see everyone enjoying the outdoors!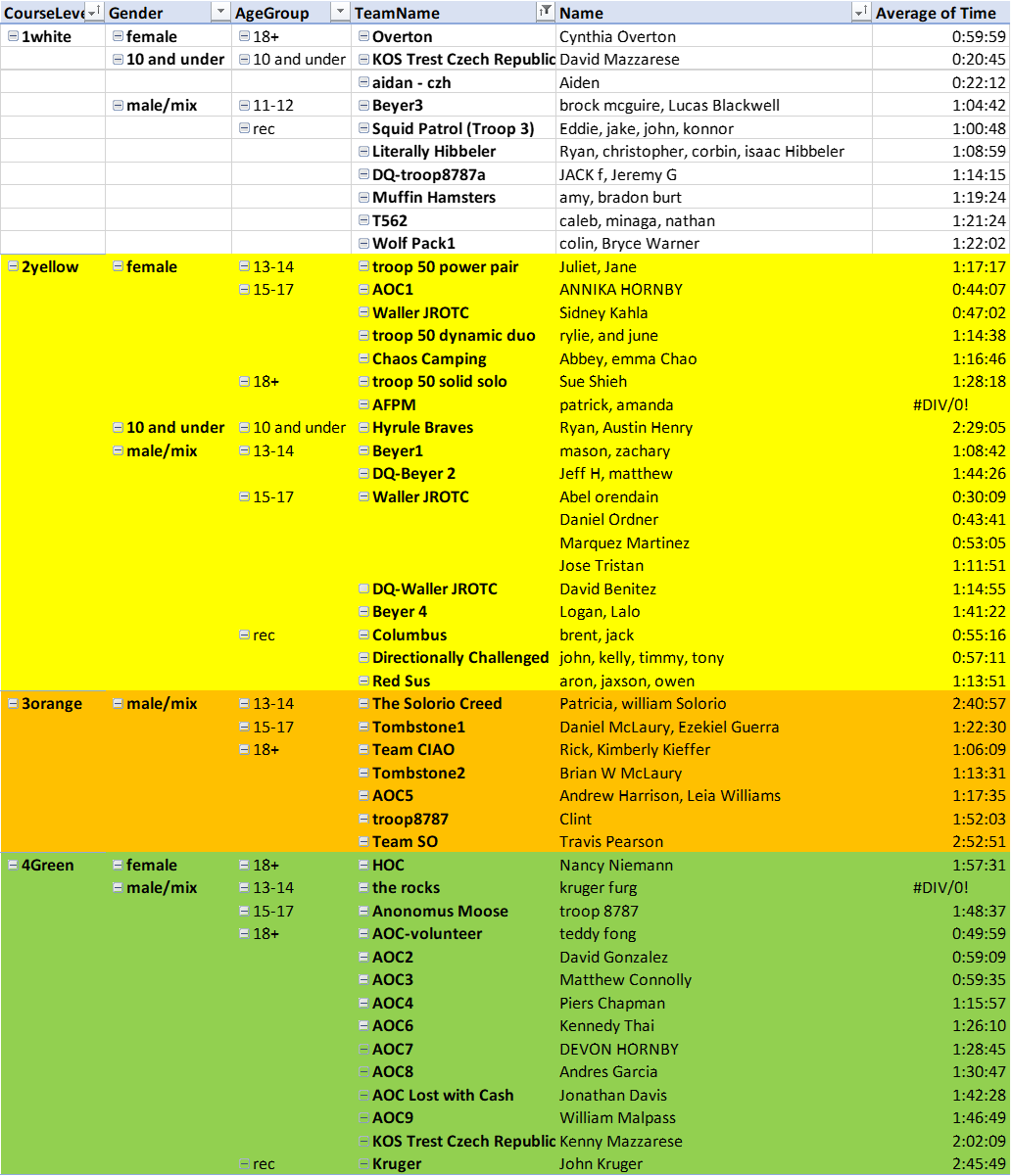 Thank you
———————————————————————
2020:  It was great to see all of those masked Orienteers for the 2020 Spring-O!  Thanks for attending the Scout Orienteering Challenge!  Below are the results from the 2020 Event!
| | |
| --- | --- |
| Yellow-Rec | |
| Team Garrett | 0:27:52 |
| Hiking Viking | 1:15:13 |
| Troop 50 Team | 1:28:06 |
| im not lost yoour lost | 1:36:32 |
| Accio Checkpoint | 1:37:56 |
| Fischer Family | 1:41:37 |
| Team 50 Solo SM | 1:46:56 |
| Troop5Team2 ZGL | 2:01:31 |
| Otchis | 2:14:31 |
| Team mini-me | 2:18:41 |
| Troop 5 Team 1 ZOG | 2:20:30 |
| The Fast and the Furious | 2:41:20 |
| team molinar | n/a |
| Little Longhorns | n/a |
| The Green G Machine | n/a |
| T50 Macon+Aubys | n/a |
| T50 Rylie+ | n/a |
| Yellow-B-15/17 | |
| Team Scream | 2:23:56 |
| Yellow-B-13/14 | |
| Javelinas | 1:53:13 |
| Anonymous | n/a |
| Yellow-10under | |
| Engies | n/a |
| White-Rec | |
| Ship 911 Pinapple Pirates | 0:43:19 |
| Brand and Dad | 0:52:20 |
| Raptors | 0:59:24 |
| Team Roblox | 1:19:28 |
| Dowlearn Family Fun Zone | 1:20:13 |
| Screaming Eagle Troop 3377 | 1:24:21 |
| Fire | 1:33:34 |
| Pack 18 San Martians | 1:37:13 |
| Ox | 2:03:29 |
| The Three Maps-kateers | n/a |
| Troop 280 | n/a |
| White-10under | |
| Mumatron Racers | 0:52:01 |
| Orange-Rec | |
| T280 Smith | 2:18:02 |
| Llamas | 2:28:52 |
| Rogue | 2:33:34 |
| Team Sandyhead | n/a |
| Orange-B-15/17 | |
| Dragons | 1:09:17 |
| Hedgehalfs | 1:35:32 |
| Orange-B-13/14 | |
| Big Spider | 1:29:45 |
| Ferguson-Thom | 1:30:28 |
| Solorio Creed | 1:56:19 |
| Orange-18 | |
| Al | 1:15:38 |
—————————————————————————
Thanks for participating in the 2019 Spring-O!  Meet results below:
| | | | |
| --- | --- | --- | --- |
| Course Level | Class | Team | Total |
| Adv Beg (yellow) | Adult | im not lost your lost | 3:01:28 |
| | Boys 11-12 | willam and carson | 2:14:45 |
| | | fortnite gamers | 2:17:10 |
| | | fire lions | 2:48:24 |
| | | spartans3 | 3:04:49 |
| | | bananas | #DIV/0! |
| | Boys 13-14 | andrew tony | 2:02:26 |
| | | sam and preston | 2:29:09 |
| | | james bond | 2:36:35 |
| | | lantern | 2:40:32 |
| | | shark attack | 3:11:50 |
| | | conner mccracken and ethen | #DIV/0! |
| | Boys 15-17 | navy white | 2:15:36 |
| | | Navy Gold | 2:24:25 |
| | | Dragons | 2:56:21 |
| | Recreational | explorers | 2:23:03 |
| | (blank) | the team | 2:06:28 |
| | | spartan 1 | #DIV/0! |
| Beg (white) | Adult | Guac Squad | 2:03:50 |
| | Boys 11-12 | fiersome fortnighters | 2:15:34 |
| | Boys 13-14 | simon adien mathwe kaden | 1:56:02 |
| | | Jake and Wyatt | 2:06:33 |
| | Boys 15-17 | Team 1 | 1:59:34 |
| | | the b team | 2:01:13 |
| | | navy orange | 2:05:15 |
| | | Dragons | 2:41:29 |
| | Girls 15-17 | navy red | 2:06:58 |
| | | Katherine and Marie | 2:14:13 |
| | | Navy Picnic | 2:48:11 |
| | Recreational | Stray seeking Silky | 2:00:00 |
| | | Rowland | 2:01:33 |
| | | galaxy gals | 2:01:58 |
| | | sable family | 2:02:00 |
| | | never eat soggy waffles | 2:26:26 |
| | | texmex kittys | 2:30:39 |
| | | unikitty | 2:32:01 |
| | | team awesome | 2:40:00 |
| | | Brownie smiles | 2:44:16 |
| | | the clan | 2:48:48 |
| | (blank) | jack and Mikael | 2:25:59 |
| Intrm (orange) | Adult | wise ones | 3:22:36 |
| | | jennifr | 4:00:25 |
| | Boys 13-14 | Kian | 2:44:03 |
| | Boys 15-17 | silent squad | 2:58:59 |
| | | autobots | 3:30:39 |
| | | MM | 4:20:14 |
| | (blank) | Johnathan mandira | 2:33:25 |
| | | max alex | #DIV/0! |
| | | navy blue | #DIV/0! |
| | | spartan 1 | #DIV/0! |
| | | hyrule heros | #DIV/0! |
| | | spartan 2 | #DIV/0! |
| | | jac | #DIV/0! |
| | | who put a control point in the lake | #DIV/0! |
| (blank) | (blank) | (blank) | |
| | | Dauila | #DIV/0! |
——————————————————————-
Thanks for participating in the 2018 Spring-O!  Meet results below:
| | | | | |
| --- | --- | --- | --- | --- |
| Class | Age | Course | Team Name | Total |
| Boys | 9/10 | White | Runnin' Rileys | 0:28:36 |
| Boys | 7/8 | White | Pack 365 | 0:39:41 |
| | | | Pack 90 | 1:03:22 |
| | | Yellow | Pack 365 part2 | |
| Boys | 15/17 | Orange | MK2 | 0:31:29 |
| | | | The absolute best team that has ever existed and is surely better than every other team because we will win for sure. | 0:47:36 |
| | | | Gucci Gang | 0:47:59 |
| | | | Team2 Electric Boogaloo | 1:04:14 |
| | | | Bryars Stivers | 1:15:58 |
| | | Yellow | Extra Loud | 0:55:40 |
| Boys | 13/14 | Orange | We used to be wizards | 0:48:10 |
| | | | Hydrogen Bois | 1:13:17 |
| | | | troop 125 | 1:35:37 |
| | | | Orienteering Kings | 1:38:56 |
| | | white | Troop 324 | 1:20:32 |
| | | Yellow | Team Blaze | 0:54:42 |
| Boys | 11/12 | Yellow | The Canadian Snowmen | 0:41:29 |
| | | | Hedgehaffs | 0:49:33 |
| | | | Midgets | 0:54:17 |
| | | | Griffins | 0:58:33 |
| | | | The Faceplanting Kryptoponies | 1:09:06 |
| | | | The Jedis | |
| Boys | 10/11 | white | Pack 324 | 2:08:47 |
| Crew | (blank) | Orange | Lady Rangers | 1:21:19 |
| Girls | 7/8 | white | LeBar Ladies 1 | 0:36:41 |
| | | Yellow | LeBar Ladies 2 | 0:36:34 |
| Girls | 15/17 | Yellow | Tx0240 Team 1 | 0:44:08 |
| Girls | 13/14 | Yellow | Tx0240 Team 2 | 0:39:56 |
| | | | Tx0240 Team 3 | 1:19:31 |
| Recreational | | Orange | UsOldGUys | 0:55:17 |
| | | | 2 Old Ladies | 1:11:32 |
| | | | Redneck | |
| Recreational | | white | Team A | 0:33:12 |
| | | | troop 62 | 0:36:39 |
| | | | Tough Cookies | 0:37:55 |
| | | | Double Trouble | 0:42:06 |
| | | | Brownie Breeze | 0:46:33 |
| | | | Team B | 0:51:34 |
| | | | Team C | 1:07:50 |
| | | | Landon/Mario | |
| Recreational | | Yellow | Three Musketeers | 0:41:26 |
| | | | Carol's Webelos Adventure | 0:51:38 |
| | | | Henry 6-under | 0:57:15 |
| | | | | |