Central Texas Spring-O, Sat March 19, 2022 (date moved)


Scout Orienteering Challenge
@ Lost Pines Scout Reservation
ALL Scouts, ALL Ages are welcome.  Scouters can run the courses as well!  Early bird registration fee until midnight Mar 12th.
Order T-shirts by 3/8/2022
Fun Orienteering Meet for SCOUTS
See registration page for new required Forms due to COVID

Join the mail list here for updates.
Come as an

individual

, or a

small group

or the

whole Troop/Pack/Crew!

Choose from three course difficulties : beginner, advanced beginner and intermediate
Night-O course (after dark race against the clock to find reflective markers)
Orienteering Merit Badge Clinic
Beginner Instruction
Look at the Participant Guide for details
Facebook page: https://www.facebook.com/ATXorienteering/
Preliminary Event Schedule:
Saturday (use this for print friendly schedule)
8:00am – 10:30am Check-in (get your event patch, punch card, and start-time) @ Log Cabin
9:00am – 10:30am BSA Scout Merit Badge Clinic Part 1 (@eagle quest)
10:00am – 10:30am Beginner Instruction
10:45am 1st Start-time; ALL COURSES OPEN

— Lunch is on your own please come prepared since COVID protocol does not permit exit/re-enter after check-in

2:00pm Courses Closed
— All Orienteers should be checked in to FINISH or HQ by 2:30pm —
2:00pm Score-O, Mass Start
3:00pm Awards, near A-Building
3:30-4:30pm BSA Scout Merit Badge Clinic Part 2

–—Dinner is on your own, please come prepared since COVID protocol does not permit exit/re-enter after check-in

7:45pm Assemble for Night-O (at START AREA)
8:00pm – 8:45pm Night-O (Score-O)
The main event is the Spring O Point-to-Point orienteering race during the day (see below). (Night-O cancelled due to COVID) The Night-O is added for extra fun for Orienteers that stay later and to help Scouts get in another course toward their Orienteering Merit Badge.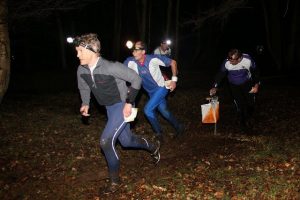 Learn more about Orienteering and other local events @ Austin Orienteering Club: http://austinoc.com/Orienteering
Answers to FAQs (if you read the participant guide, it should answer most of your questions)
Who is invited? All Scouts and Youth Organizations and Orienteering Clubs
How old do you have to be? This event is for all scouts, all ages. Adults can compete too! 10 and under must be on the course with an adult. 6 and under are free (adult still must register)
Do i need special instruction or skills to do this? No. if you can use a map to find the bathroom at the Zoo, you can navigate the beginners course. There is a beginners clinic at the event as well as a Merit Badge for BSA-Scouts.
Camping is OPTIONAL. If you're not camping, just be sure to get here before check-in closes at 10:30am to get your start time and punch card. You can leave when you are done with the course, and/or stay for Awards, and/or stay for the Night-O. 50% of participants typically just come for the day. (********CAMPING REQUIRES YOU BRING A BSA COVID TRAINED ADULT)
There is no food service. There will be water available to fill your own bottles but you need to come prepared with your own food and/or snacks.
What is a Point-to-Point? (sometimes called "Cross Country" An Orienteering event where 8-12 control points must be navigated to (in order) and punch-card punched to show evidence that you found each point. Our Spring-O courses will range from 1.5 to 3.5 miles. You can go at your own pace just for fun, or run as fast as you can and compete for the best time in your class (and a medal or ribbon to prove it!)
What is a Score-O? An Orienteering event where participants search for as many control points as they can (worth varying points) within a time limit. Participants should consider the point value and think about how they can maximize their points in the short time-frame. Our Score-O will be 45 minutes.
What is Rec? Rec is Recreational class/category for participants who are not competing. You are timed but not eligible for a medal. If you want to run in a group of more than 2, you are in the REC category.